by Gabe Goldberg
Laptop computers are increasingly popular, with sales rivaling or surpassing those of traditional tower systems. Several positive factors drive this trend: decreasing prices, more powerful models, and common availability of wireless network access (WiFi).
But more capable notebook systems often run hotter, causing two problems: discomfort when they rest on your lap, and heat-related early failures.
Fortunately, several versions of a simple and economical gadget solve both problems, while also making it easier to operate the laptop: Laptop Desk from LapWorks.
Consisting of three parts — two sturdy hinged pieces with no-slip rubber pads for gripping the laptop, and a small adjusting bar — the lightweight devices tilt the PC for much easier typing and allow air circulation underneath. Unfolded, the pieces lock into a 21″ platform, easily balanced on one's lap; some models can attach optional mousepads to enlarge available workspace.
This portable workspace avoids struggling to balance a laptop or type at an awkward angle, and extends laptop life by reducing electronics heat.
In addition to keeping your laptop computer nicely air conditioned, the Laptop Desk positions its keyboard for easier and more comfortable typing, reducing strain on fingers and wrists. The Laptop Desk Web site features advice from a Certified Associate Ergonomist and a comprehensive white paper about portable computer ergonomics. It also provides (hidden, oddly, on the About Us page) a quick diagram of best setup and posture for laptop use, a laptop care-and-feeding guide with usage tips, and a direct line to Wendy the ergonomist who answers questions and gives advice on laptop ergonomics.
Best of all, there's no argument about which operating system is better: Laptop Desk is equally cool for Mac, Windows, Linux, or any other laptop PC operating system you might favor. It's available from the manufacturer and at retail electronics stores for about $30.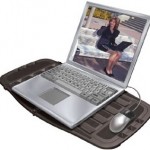 The Laptop Desk web site lists almost two dozen awards the product has received — some big-nameworthy, others obscure. But I knew this product was a winner when, soon after it arrived, my very much non-geek wife appropriated it for her laptop and announced that where it goes, her Laptop Desk is sure to follow.
Gabe Goldberg (tiplet@gabegold.com), a lifelong computer pro and technology communicator, has written three books and hundreds of articles for audiences including techies, baby boomers and senior citizens. He enjoys sharing tips and pointers that help people use and have fun with technology.